Course Design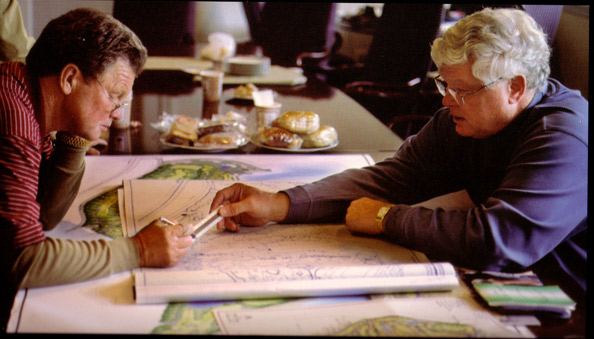 The Designers
Even after all these years, Tom Kite and Bob Cupp still refer to their decades-old friendship as a blessing.
Long before they teamed to unveil Liberty National Golf Club to the world, they were brought in among a group of prospective architects in the redesign of the West Course at Baltimore Country Club. The year was 1988. Kite and Cupp had never met.
"What ended up happening was, the committee at the club liked what I had to say and they like what Bob had to say," Kite remembers. "They wanted to hire both of us."
The club did, and the union was the first of several collaborations, but none would match the gravity or complexity of the Liberty site, which Kite first heard about in 1992, fresh off his two-stroke victory in the United States Open at Pebble Beach.
At a corporate golf outing near Washington D.C., a businessman named Rusty Bayliss told Kite about a stretch of land on the shore of New Jersey and asked Kite if he designed golf courses.
When Kite answered yes, Bayliss brought him a packet with an aerial view of the location, including the Statue of Liberty and Ellis Island.
"I said, 'You've got to be kidding me,'" Kite recalls. "I went out and saw it. And I couldn't wait to get to Bob and show him the site."
Cupp, too, brought formidable credentials, including more than 15 years as a senior designer for Jack Nicklaus. In 1992, the same year Kite won the national championship, Cupp was named Golf World Magazine's first Golf Architect of the Year.
The Liberty site would present Kite and Cupp the ultimate challenge - turning a decrepit property that had housed everything from World War I ammunition to oil tanks and making it into something pristine.
"There is a pretty deep history in that little part of the world," Cupp says. "We are talking about of one of the heroic coastlines of the American experience."
After several years of dredging the property, hopping through environmental and permitting hoops, and the laying out of some 60 to 70 different routings, the project almost died until Cupp's friend, Rowland Bates, enlisted his business partner, Paul Fireman, and it was saved.
"Needless to say, without Paul this project would have died," Kite says. "And without Rusty, the job wouldn't have gotten off the ground."
But what kind of golf course would Liberty be? How would Kite and Cupp blend their talents?
"When you have a site like Liberty, the pressure is unbelievable," Cupp explains. "We felt it all the way from the beginning."
With the eyes of the golf world poised upon their work, Liberty opened on July 4, 2006. A huge undertaking had given way to a masterwork of beauty and strategy.
"You need to drive it fairly straight at Liberty National, and the greens are such that if you don't drive it straight it is tough to get to the pin," Kite says. "What I try to do is not have any one part of the game dominate. I don't want it to be just a putting course or just a bombers course. I want you to be rewarded for length, accuracy, iron shots, chipping and bunker shots. And, of course, putting will always be there."
Adds Cupp: "We were together on this and I don't think we ever had a disagreement on the aesthetics. Tactically, Tom's knowledge goes beyond perfection. And it's also about the conditioning of the golf course and also what the player feels when you play the golf course, what your senses record, what you see."
What players see when they walk Liberty is a testament to talent and patience of a remarkable design tandem.
They both realize how special their journey has been, how unique the opportunity to add to the rich history of golf course architecture.
"Our efforts and have been rewarded and Paul Fireman's efforts have been rewarded," says Kite. "I'm proud of the golf course and very proud of the relationship we have with Paul. The members of Liberty have a golf club that will host championships for many years. It is a source of pride to New Jersey and will be a fixture for years to come."
And through it all, the flowering of this great golf course has led to the deepening of a friendship.
"Liberty was a defining moment as a pair and maybe even from an individual standpoint," Cupp says. "If I had to share the credit with somebody, Tom would be my first pick."
~ Damon Hack